1996 (Earley) Squadron Air Training Corps
Welcome to the digital home of 1996 (Earley) Squadron, Air Training Corps. The Air Training Corps was created in 1941. Today members of the Air Training Corps are more commonly known as
Air Cadets
. The Air Cadet Organisation is open to
boys and girls
from
Year 8 to the age of 20
.
We do a wide range of activities including Flying, Gliding, Shooting, Sports, Adventure Training (hill walking, caving, canoeing) and self defence. We meet twice a week
Tuesdays
and
Thursdays
between
7:00pm
and
9:30pm
and also do a load of activities at the weekends.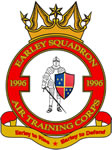 How do I join?
The first step is to contact us any time using our
contact form
and we'll get back to you quickly.
Covid-19
We are currently closed due to Covid-19. If you would like more information regarding joining once we reopen please use the Contact form above and we'll send you more details
We'll then invite you to attend an evening, on the very next Tuesday or Thursday, to give you the opportunity to see what we do first hand. Of course, you'll only see a few of the many activities we do but you'll get a feel for the place. You can find us in the scout hut behind St Peter's Church, Church Road (see
our Map
).
What we do
Best way to see what we do is by example. More information about the some of the many activities we do is available below...