Want to Join?
So you want to join 1996 (Earley) Squadron?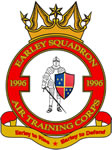 Well if you're a boy or a girl, in year 8 and under the age of 17, you can join. If you want more information, please get in contact with us.
It's normally best to wear school uniform or something smart on your first night down. This will fit in with the Air Cadets smart uniform that we pride ourselves upon. That night, you will be given some information and some forms for your parents to sign and then you can come back the very next parade!
As soon as you join us you become part of the Training Flight. Over a period of a couple of months you'll receive basic training covering our First Class syllabus, an introduction to Drill, be issued with your uniform and gain some familiarisation with Fieldcraft & Ground Defence Training (GDT) or 'Greens', some Survival skills and take part in sports and Self Defence.
Once you've covered Basic Communications, Basic Map Reading and Airmanship pt. 1 we'll try and get you up in a training 'plane (called a Tutor) or a glider. You may also be able to take part in some of the Wing-organised Fieldcraft exercises and gain your Weapons Handling Test – this shows you are safe to handle a specific weapon – and then shoot.
Not Sure The Air Cadets Is For You
Come down and have a look at the Squadron to see if you think it is for you. There is no pressure to join. Although we get some funding from the Royal Air Force, we are not a recruitment tool for them. There is no pressure during your time to join the RAF, however if you wish to join the RAF the Air Cadets is a great taster and will give many of the future skills you will require.
The squadron meets on a Tuesday and Thursday between 1900hrs and 2130hrs. Cadet membership is open to UK citizens both male and female from year 8 to the age of 17. The upper age limit is 18. Cadets can then apply to continue with the Air Training Corps up to the age of 20.